AC·TI·VATE
—
to set in motion; make active
Physics. to render more reactive; excite
Chem. to accelerate (reactions)
—
ACTIVATE is where we share new exciting information that is relevant, important and useful to everyone especially for businesses. By arming you with knowledge that can change the face of business everywhere, you can better strategize your next step. To help you set things in motion, shoot us an email: activate@five.sg
//////////////////////////////////////////////////
Responsive Web Design.
What is it? (and why you need it)
Responsive Web Design (RWD) is a 'Write Once, Run Everywhere' style of designing websites that provides an optimal viewing experience for a single website across all devices, regardless of whether your audience visits your site using a phone, tablet, computer, or other devices. RWD uses a fluid structure that intelligently adjusts its layout and features based on how it is viewed, providing a consistent, user-friendly web experience all the time.
Why should I switch my website to responsive design?
MOBILE DEVICES ARE FAST BECOMING THE DOMINANT GLOBAL INTERNET PLATFORM
Internet Usage – Mobiles vs. Desktops
The graph above shows that by 2015, mobile internet usage (1.9 billion) will surpass desktops (1.6 billion) and continue to grow in this direction. (Global Mobile vs. Desktop Internet User Projection 2007 – 2015, Morgan Stanley Research) 
NON-MOBILE-FRIENDLY SITES CAN HURT BRANDS AND LOSE POTENTIAL CUSTOMERS

As the number of smartphone users rises, consumers are becoming less patient with sites that are not prepared for the mobile age. Here are some statistical highlights of Google's research:
48% of users feel frustrated and annoyed when they visit non-mobile-friendly sites as they are difficult to read, interact and navigate.
52% of users who have bad mobile experiences are less likely to engage with the companies.
48% of users say that when sites don't work well on their smartphones, they feel that the companies don't care about their business.
61% of users are likely to leave quickly if your site is not optimized well for mobile devices.
75% of users prefer a mobile-friendly site and are likely to return to that site in the future.
67% of users are more likely to buy from mobile-friendly sites.
CONSUMERS MOVE BETWEEN MULTIPLE DEVICES TO ACCOMPLISH THEIR GOALS
What this means is that people who search for a business' site begin reading content and viewing videos from their desktop computers at work, and then look for the same business on their smartphones during lunch, they are able to continue their research into products and services uninterrupted. More statistics from Google show that:
90% of people use multiple screens sequentially. Search is the most common way consumers continue from one device to another.
Most Popular Cross Device Activities → 81% Browsing The Internet → 67% Shopping Online → 46% Managing Finances → 43% Planning A Trip
FUTURE PROOF AGAINST NEVER-ENDING PARADE OF NEW MOBILE DEVICES HITTING THE MARKET
The number of new devices of varying screen resolutions, platforms, and browsers that need to work with your site grows day by day. Rather than tailoring disconnected designs to each of an ever-increasing number of web devices, it is essential to have a web design that is fluid to adapt itself to multiple screen sizes and new technology.
GOOGLE APPROVED: INDUSTRY BEST PRACTICE
Google recommends webmasters follow the industry best practice of using Responsive Web Design, namely serving the same HTML for all devices and using only CSS media queries to decide the rendering on each device.
How can my business benefit?

No need to create separate sites for desktop, handsets, tablets and apps.
Easy to manage content editing through a single CMS
With one URL and the same HTML, regardless of device, responsive design makes it easier and more efficient for Google to crawl, index and organize content. The benefit of consolidating link equity to a single page enables that page to rank better than the separate desktop, tablet and mobile pages could have done alone.
Show me an example of a responsive site!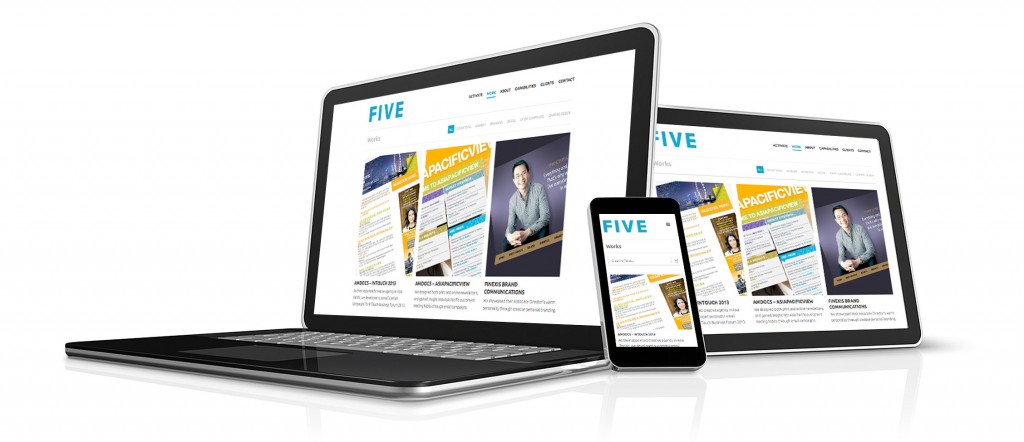 FIVE's website is completely responsive across desktop, tablet and smartphone devices. View it on different devices to see how the layout adapts itself based on the screen resolution and in various orientations.
Is your website ready for today's multi-screen world? Email us at activate@five.sg to get started.